Hospice of San Joaquin Physicians
A patient's hospice care team consists of a highly-trained, multidisciplinary group of care professionals, with each member playing a role in the planning, provision, and management of the patient's holistic end-of-life care. Playing a crucial role in the care team are the Hospice Team Physicians and Medical Director, an expert team of physicians that are responsible for ensuring that every patient's care wishes are honored, that the hospice team is supported, and that the care goals set for each patient are being achieved. Hospice of San Joaquin has expanded its original strategic plan of having two team physicians and one Medical Director to introducing a total of four new team physicians and our new Medical Director, Dr. Deepak Shrivastava, to enhance all home-base patient care. Transitioning from two teams, both covering the greater North and South county regions, to now having four, each team physician is responsible to oversee the patients on their particular team. The smaller teams result in less patients per team, which will help enhance Patient care, allows for greater oversite and teamwork between our Registered Nurse Case Managers and Hospice Clinical Staff to provide the high-quality, compassionate end-of-life care we are committed to providing. "As we continue to grow in the community, we need to adjust to our patient needs. This new transition allows us to focus more individually on our teams and patients to ensure the best patient care through closer care coordination and enhancing patient needs.", says Hospice of San Joaquin Chief Clinical Officer, Sandra Smith.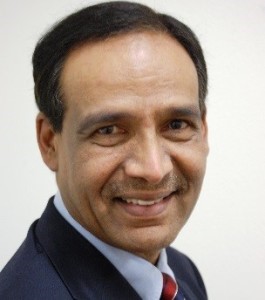 Dr. Deepak K Shrivastava, MD | Medical Director
Hospice of San Joaquin welcomes new Medical Director, Dr. Shrivastava. Dr. Shrivastava is a Pulmonary Disease specialist in Stockton, California. He attended and graduated with honors from University Of California, Davis School of Medicine in 1987, having over 34 years of diverse experience, especially in Pulmonary Disease and Internal Medicine. He is affiliated with many hospitals including San Joaquin General Hospital and is part of many medical groups including County Of San Joaquin, Delta Sierra Medical Group Incorporated. Dr. Shrivastava is an Adjunct Professor of Pharmacy at University of Pacific, School of Pharmacy and Associate Professor of Medicine at St. George's School of Medicine. He is an active researcher, inventor and has keen interest in medical education to influence health care policy at administrative and political levels. Recently, he has won medical director of the year, 2015 award at American Medical Directors Association.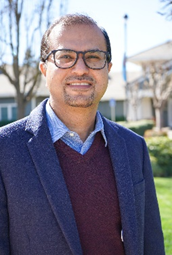 Dr. Ajithkumar Puthillath (AJ), MD | Pacific Palliative Care Physician
Hospice of San Joaquin is excited to welcome Dr. Puthillath as new Team Physician. Dr. Puthillath is the former Chief of Staff and is currently an active member of the Community Board at Lodi Memorial Hospital where he also serves as the Chairman of the Bioethics committee. He is the Co-Chair on the Breast Cancer Center of Excellence at St. Joseph's Medical Center in Stockton. Dr. Puthillath completed his medical training from Mysore University, India. He then completed his internship and residency training in Internal Medicine at McLaren Regional Medical Center, Michigan. During his residency, he was awarded the PGY-2 for outstanding resident of the year and the "Ambassador Award" for the best outgoing resident. Dr. Puthillath completed his fellowship in Hematology and Oncology at Roswell Park Cancer Institute (RPCI), New York. Dr. Puthillath has numerous research publications in peer reviewed oncology journals and has actively presented in the American Society of Clinical Oncology meetings.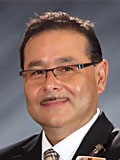 Dr. Michael Herrera, DO | Team Physician
Hospice of San Joaquin welcomes Dr. Herrera as new Team Physician. Dr. Herrera attended Medical School at Western University of Health Sciences College of Osteopathic Medicine and completed his Residency at University of California Davis Medical Center. Dr. Herrera brings in over 28 years of diverse experience in Emergency Medicine and Osteopathic Manipulative Medicine, and is an affiliate in the medical group San Francisco Physicians International Medical Group Incorporated, where he holds his credentials in Doctor of Osteopathic Medicine.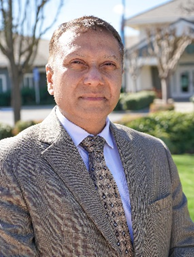 Dr. Sanjeev K Goswami MD, FCCP | Team Physician
Dr. Goswami joins Hospice of San Joaquin as new Team Physician, with expertise in Internal Medicine, Pulmonary Diseases, and Critical Care. He attended Government Medical College of Amritsar, India where he received his Bachelor of Medicine & Bachelor of Surgery (M.B.B.S.) and earned his Pre Medical Degree at Government College, Hoshiapur, India. Dr. Goswami then completed his Internship & Residency in Internal Medicine at St. Elizabeth Medical Center, his Fellowship in Critical Care Medicine at Brown University, and Fellowship in Pulmonary Diseases & Critical Care Medicine. Dr. Goswami is an active affiliate of the American College of Chest Physicians, American Thoracic Society, California Medical Association, Society of Critical Care Medicine, and the San Joaquin County Medical Society.