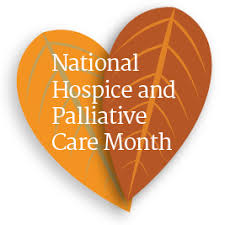 Oct 26, 2016
November is National Hospice & Palliative Care Month!

Hospice of San Joaquin wants you to know you have options for end of life care.
In the month of November, Hospice of San Joaquin celebrates National Hospice Month. Hospice of San Joaquin has served the people of San Joaquin County for 36 years. We work every day to allow our patients dignity and comfort at the end of life. Our interdisciplinary team works to not only address our patient's physical needs, but also their psychological, social, and spiritual needs.
Our commitment to the community does not begin with our patients. The Transitions program works to 'make life a little easier' for individuals facing advancing chronic or life limiting illness. Bereavement begins at end of life, not with death. We offer pre-bereavement support and resources to help prepare for the transition. Grief support groups for adults and children are available to patient's families and the community at large.
Our volunteers help keep the wind beneath our wings. The Butterfly Auxiliary volunteers' fundraising efforts allow us to welcome patients into the only Hospice House in San Joaquin County; A place where individuals can spend the end of their life surrounded by their loved ones. Every Life Matters, a volunteer program ensures no one faces the end of life alone. We would like to take a moment to thank all of our volunteers and most importantly our staff. Their compassion and dedication to our mission allow us the continued privilege of being voted "Best of San Joaquin".
As the original Hospice provider for San Joaquin County, we work every day to give back to our community. Only with you is our work possible.
Sincerely,
Rebecca Burnett MPA, BSN, RN, CHPN, CHA
Chief Executive Officer